Bespoke and custom shoe services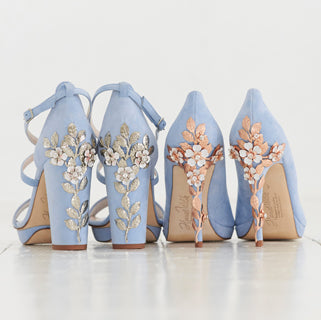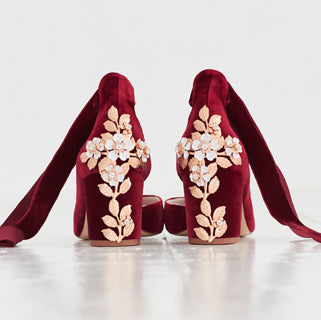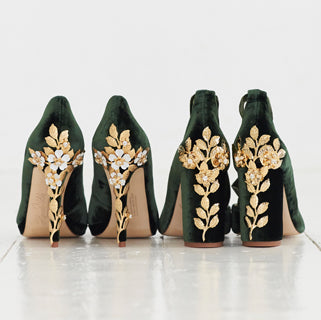 Create a custom style
Imagine creating your dream wedding shoes, heels to co-ordinate perfectly with your wedding look and theme, Harriet Wilde can create custom designer bridal shoes made especially for you.
Create a unique custom pair of designer wedding shoes embellished with one of Harriet Wilde's exclusive floral heel embellishments, choose the shoe style and the embellishment and we will handcraft the shoes for you. Create your dream designer bridal shoes, the collection includes made to order shoes and styles in a standard width and wide fitting bridal shoes, read the steps for more information on how we make this process work.
Step 1

Choose the shoe style from the collection, please use the drop down menu to select/view the embellishment, you can also add a sole message if you would like too. Please place your order online, when your order is received by our team we will be in touch to confirm the details/size and to ask the date of your wedding or fitting dates when the shoes are required. If you have questions or need more advice on your choices our team can assist, please book a virtual consultation or visit the London showroom. We will arrange for the style and an example of the embellishment to be sent for you to try in advance of finishing your final pair, please select express shipping if your wedding or event is close as we need to allow time for you to try, plus shipping and if you need to exchange, please don't worry you are in safe hands, we do this every day and we will be with you every step of the way, our team will be able to guide you at the point of receiving your order. Please read step 2.

Step 2

When you receive the shoes and the embellishment please try the shoes and check that you are happy, if you need to exchange/return at this stage this can be arranged by our team, in order to assist we can help and advise with any fit or styling questions. Please let us know how shoes fit and if you need more assistance or if you are happy to proceed. We include a free return shipping label for you to return the shoes, this is for customers in the UK, US, Canada, Europe (excludes AU, Asia, Middle East, we have an alternative method to return, please send an email to contact@harrietwilde.com for more information)

Step 3

We receive the shoes back, if you are proceeding please allow 2-3 weeks for the team to hand finish your shoes, please note in busy periods this can take longer and we will keep you updated, we always to work to the dates we provide and we will keep you updated and manage in accordance with your wedding date. If you need to exchange we can arrange and the same as step 2 will happen, we'll just need you to cover the cost of the return for the exchange, we will cover the post to send the exchange. For return orders the shoes will be refunded in accordance with our T&C's minus the post costs. Please read step 4.

Step 4

Please allow plenty of time when ordering, it's good to factor in extra time to exchange (if required), we suggest a minimum of 5 weeks for clients in the UK, countries outside the UK allow a minimum of 7 weeks (with courier shipping) and more if you select standard shipping. Please note we will require you to return the shoes for trying as soon as possible, any delays with the return will result in delays to the finished item. We recommend booking a virtual appointment if you have lots of questions or would like to compare lots of styles and embellishments. Urgent orders or for more information please email the team in London and we can help you: contact@harrietwilde.com
View the collection

Made to Order Shoes
Create your own unique bridal shoes
We have a selection of styles available to order online as a made-to-order pair in a variety of colours and materials, each of the styles can be embellished with our floral embellishments. In advance of making your special one off pair of shoes we will send a pair of the shoes for you to check the size and style, we will also send a swatch of the material and an embellishment. The price includes the return shipping for these shoes and the shipping to send your finished pair. We will make your shoes when you have confirmed the size and style, the shoes will be custom made especially for you, we aim to deliver the shoes in 10-12 weeks after confirmation. Please note these are a bespoke item. contact the studio for more information.
Book a virtual appointment if you would like to compare styles and talk through the process, please note that we can make other styles in the collection as a made-to-order style in these colours and materials, please contact the studio for more information.
View Custom Bridal Shoes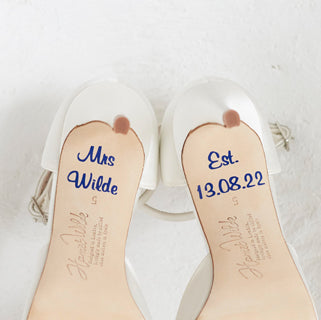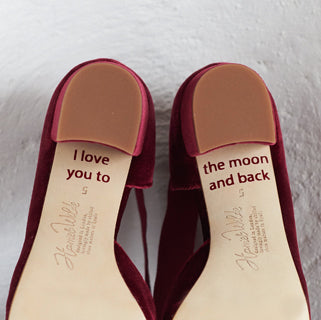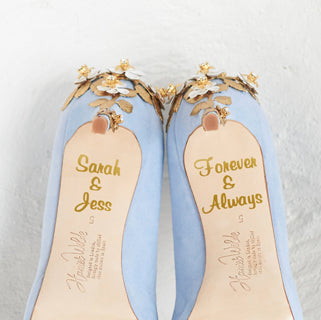 Sole Message
Personalised shoes - soles with your own message
Add your own personal message to the soles of your Harriet Wilde shoes, choose a short message in a variety of colours. The service takes 3 weeks from order and is offered worldwide to clients, shoes can be returned or exchanged if the message is added to the soles, click to order your own message, please contact the studio for more information.
Visit Sole Message in Shop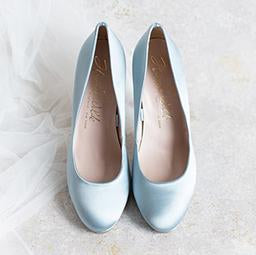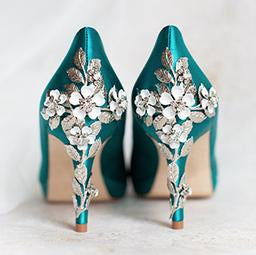 Shoe Dye Service
Choose from the selection of colours
Each pair of our satin shoes (including the embellished styles) has the versatility to be re-coloured and enjoyed after the wedding, or, if a coloured shoe is preferred for the occasion, they can be dyed to match any shade first. The service takes 3-4 weeks to complete (excluding shipping). The dye is precisely applied by hand in a skilled and experienced process, any required colour or shade can be created, except for white. Order the shoe dye online, we have a custom option and the colours, Black, Blush, Forest Green, Misty Blue, and Midnight. 
Visit Shoe Dye in Shop